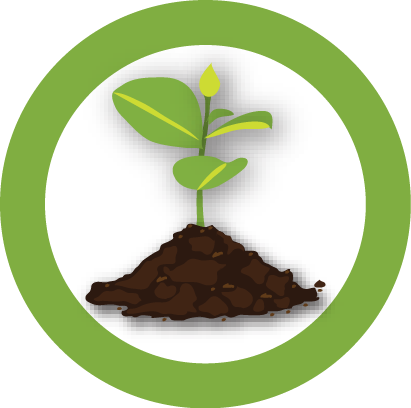 Bloomers! Manifesto
We believe that children have a right to know where their food comes from and how to grow it.
We have found that if children grow their own food, they will eat it.
We believe that children learn best when they are "doing." What better way to learn how to grow vegetables, than to actually grow vegetables. And with the Bloomers! Backyard Garden, it can easily be done in your backyard, on a patio, or even on a windowsill – as long as the plant will get about 4 – 6 hours of sunlight per day.
We believe in fresh organic fruits and vegetables. If you have access to a local farmers' market, that is your best option for fresh produce. It may seem like it costs a little more, but the food will last longer. Also, freshly grown food is tastier and more likely to get eaten by your family!
We believe in a plant-based diet whenever possible. You might notice in our healthy recipes: margarine (we recommend Earth Balance) instead of butter, almond milk instead of milk, soy cream instead of cream. You
can substitute as you see fit, but if you can try the plant-based alternatives, great!
We believe in the power and magic of nature and outdoor play. We feel that almost anything done indoors, can be done outdoors even in inclement weather. Outdoor play provides a plethora of benefits for children including, vitamin D from the sun, immune-boosting bacteria in soil, stress relief, and all the benefits of exercise.
We believe that technology and digital literacy is important for young children. But we feel that technology can better serve children by informing them about nature and engaging them with games and tools that encourage them to go outside and explore.
We believe in making learning a game for children. In doing so, they are more likely to be enthusiastic about the process of learning and more likely to retain the knowledge.
We believe in using digital resources wherever possible to save paper.