About Bloomers! Edutainment
Our Story!
Being a mother of 4, I had a hard time getting my kids to eat their vegetables. I tried to enhance the taste by involving the basic veggies into different dishes, but our little rascals always managed to pick out the greens. It was tough- and would more often end up in a battle of tears and tension. I felt as if all they wanted to eat were Oreo's and lollipops…
My name is Cynthia Wylie. I grew up on a farm in western Pennsylvania. We had chickens, cows, horses, cornfields, and gardens galore. When I faced the issue of trying to get my children to eat healthy foods, I started making up little fables. My love for flowers and background in agriculture influenced me to make my stories with garden characters. Rosie, Lily, Big Red and Bud were inspired by my 4 kids, with stories that taught them valuable lessons and helped encourage them to eat their vegetables.
As my kids grew older, child obesity became a bigger issue throughout the US. Supermarkets became bigger, portion sizes grew, farms were being subsidized, and our food started to turn into a list of ingredients I couldn't even pronounce…
Thus, I started to experiment with gardening in the backyard of my home in Venice Beach, California. I found out ways to grow fresh veggies in my my city home. I have held on to the bloomer characters since my first garden tale in 1996, and I wanted to find a way to incorporate fun into healthy eating. Soon my idea of fun gardening came to mind, and Bloomers! Edutainment came to life!
What is Bloomers! Edutainment?
Bloomers! Edutainment is a transmedia company with the main purpose to help children eat healthier. Transmedia utilizes a multi platform approach to teaching. With the ever-growing use of technology in our children's lives, we wanted to use the entertainment value of technology to boost kid's interest in the great outdoors.
Bloomers! Edutainment has multiple platforms – our online world, our gardening guidebook, and our Bloomers! Know + Grow kit. Bloomers! Island is an online community with mini-games and quests. The gardening guidebook is a comprehensive guide – full of coloring pages, puzzles, stories, and instructions – to our know +grow kit that is available as a comprehensive school curriculum program or at-home backyard kit.The Bloomers! Backyard garden kit is a compact, easy-to-use, all-inclusive garden station where your kids can plant, water, and watch as their veggies com to life. The Bloomers! Schoolyard program ties into the pre-k school curriculum and is designed for an average size classroom, incorporating gardening and plant life science concepts into the classroom.
We created a reward system for the 10-12 week program to help keep your children fully engaged.  Each mini-game, activity, and storybook complements the growing process of the vegetable. Achievement badges and reward points give your children the incentives to continue taking good care of their growing plants. Plus, the adorable Bloomers! Character's are easy to fall in love with and provide the ultimate learning environment about how to garden and eat healthy for your child. Each one of our platforms can be enjoyed singularly, but together, create a fully enhanced program where children learn how to grow their own vegetables, feel good about themselves, and ultimately look forward to eating them! (A crazy concept, we know, but it works!)
Be A Bloomer!
Bloomers! Island is an exciting online environment where kids can go on a special quest, make friends online, learn how to plant and grow a seed, read stories, win games, win badges, and win a treehouse … they can be a Bloomer!
Grow A Bloomer!
Bloomers! Schoolyard program gives kids hands-on experience to reinforce what they are doing online. Children actually grow their own crop of vegetables with our curriculum which includes the Bloomers know+grow Garden, posters, and stories that teach kids how to grow a Bloomer!
Find A Bloomer!
Bloomers! Backyard encourages children to go outside and 'get their hands dirty' with fun outdoor projects. In addition, Bloomers! branded products that can be purchased by mom or dad encourage kids to plant and grow seeds. Points can be won online when kids take trips to botanical gardens and arboretums to find a Bloomer!
Our vision for your child is to propel excitement about the natural world from an early age, teach them a new way to play and interact with the natural environment around them, and ignite their passion for a healthier tomorrow.
Happy knowing + growing!
Cynthia Wylie
Founder, CEO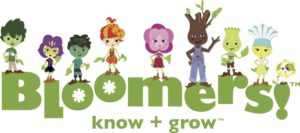 About Bloomers! Schoolyard Inc.
Bloomers! Schoolyard, Inc.
Our Non-Profit Organization
Very soon after starting Bloomers! Edutainment began working with schools, we realized that many schools – sadly the ones whose students need it the most – simply cannot afford "extras" like gardening programs. So we decided to do something about it. In forming the non-profit, Bloomers! Schoolyard, Inc., Bloomers! has been able to raise money to donate the Bloomers! hands-on gardening and healthy eating program to schools such as the federally funded Head Start schools, state subsidized preschools and Title I elementary schools. In addition, a portion of all Bloomers! Edutainment products sold are donated to Bloomers! Schoolyard, Inc. Visit our non-profit pageHERE.
Recent studies prove that school-based garden and nutrition education programs positively impact the adoption of healthy eating habits; children are more likely to try new fruits and vegetables if they grow them themselves. Healthy eating in childhood and adolescence is important for proper growth and development and can actually prevent health problems such as obesity, dental caries, iron deficiency, and osteoporosis.
Bloomers! has created a revolutionary and unique way to make gardening more appealing, engaging and meaningful for young children by integrating game-elements into the 'hands-on' learning process to create an "EDU-taining" garden experience unlike any other.
With Bloomers! children learn by doing with our 'hands-on' and immersive approach to healthy eating through creating real-life and virtual playgrounds where students can have direct experiences with the magic of nature. The healthful diet and exercise practices children learn through a garden-based education, planted like the seeds in a garden, will continue to grow into life-long habits that can be effective weapons in the fight against childhood obesity and, ultimately help create a healthier population. The Bloomers! Schoolyard program takes a coordinated approach to help children overcome their health, developmental and educational challenges, through creating an interactive game that links nutrition + environmental education with technology so children can keep playing, growing and learning at home, at school, online and even outside.
Our current generation is the first one in our nation's history at risk of having a lower life expectancy than their parents due mainly to poor nutritional habits. If you ask many young child where food comes from, the most common answer is the grocery store. Understanding where food comes from and how fruits and vegetables are harvested is essential to understanding better nutritional values and practices.The more exposure and understanding a child has of this, the better chance they have at eating healthier and avoiding bad food habits.
Schools are in a unique position to promote healthy eating and help ensure appropriate food and nutrient intake among students. Schools provide students with opportunities that enable students to learn about and practice healthy eating behaviors. School gardens can be integrated into the educational curriculum to teach children not only about gardening and plants but other subjects as well. The school vegetable garden is an effective way to get kids moving, teach nutrition education, and promote healthy eating habits. Yet, the majority of schools in the U.S. do not have a school garden or a nutrition education program; they lack the resources required to do so.
Together, with the help of Schools, Educators, Parents and the Community, we can reverse the poor nutrition habits of our nation, through allowing children the opportunity to grow a vegetable garden and learn healthy eating practices that will last a lifetime. Bloomers! Schoolyard is making it fun for the child and easy for the educator and therefore more possible than ever before to start a school garden and improve the health of young students.
If you are interested in being added to our waiting list of schools, please email us at: Schoolyard@BloomersIsland.comThis email address is being protected from spambots. You need JavaScript enabled to view it.?subject=Waiting%20List">
If you would like to make a difference in the health of young children, please donate to our non-profit:
Know + Grow Advisory Board
Our Esteemed Advisors
John M. Morris, Chairman Emeritus Tech Coast Angels
B.A. Economics, UCLA, M.B.A. Dartmouth, C.P.A.
Vistage International Chair
Mentor/Leader, Startup Founders Group
Venture Capital/Investment Banking Background
Faculty Advisor UCLA Anderson School of Management
Lance Young, C.E.O. Create Studios
USC Film School, Harvard M.B.A.
Head of Creative Affairs/Production, Dreamworks Animation
Writer/Director Major Motion Picture, Sony Pictures
Senior Vice President, Warner Brothers Studio
Senior Vice President, Paramount Pictures
Lecturer USC Peter Stark Program
Advisory Board, The Los Angeles Film School
Richard Cohen, Director Project ABC
Ed.M. Harvard, Ph.D. Educational Psychology, UCLA
Career spent at the intersection of ECE & Child Welfare
Executive Director, Westside Children's Center
Head Start Director
UCLA Laboratory School
Carl Bressler, Advisory Board Member, Marza Animation
B.A. Communications, Michigan State University
Owner Montana Artists Agency – representing game designers & new media artists
Entrepreneurial lecturer
Seed angel advisor for technology investments
Raulee Marcus – CEO/CMO Branding Specialist
Bryn Mawr, Harvard Business School, Thunderbird
CMO, Green Dot
CEO, Spongeables
CEO and President, Obagi Medical Products
Group Vice President, Europe, Jafra Cosmetics
Director, Global Business Development, Colgate Palmolive
Corporate Officer, Neutrogena
David Wild – Director of Sales, Hasbro Inc.
B.B.A. San Diego State University
Regional Manager, Hasbro Inc.
Western Regional Manager, Hasbro Inc.
Midwest District Manager, Hasbro Inc.
Denise Young – Principal, DMY Brands
B.A. Boston college, M.B.A. Loyola Marymount University,
VP Worldwide Licensing
MGM Consumer Products,
VP Licensing, Mommy & Me
Senior Manager, Disney Consumer Products
The Bloomers! Team
Cynthia Wylie, Founder, C.E.O.

Bloomers! Avatar: Violet

Favorite Children's Book: Charlotte's Web

Game: Chess

Outdoor Activity: Horseback Riding

Subject in School: Organic Chemistry

Vegetable: Eggplant

Elementary School: Connoquenessing Valley

Bio:

Justin Lewis, C.O.O.

Bloomers! Avatar: Basil

Favorite Children's Book: Where The Red Fern Grows

Game: Monopoly

Outdoor Activity: Skiing

Subject in School: History

Vegetable: Broccoli

Bio:

Cassondra Hegyes, Product Development Manager

Bloomers! Avatar: Lilly

Favorite Children's Book: The Stinky Cheese Man and Other Fairly Stupid Tales

Game: Candyland

Outdoor Activity: Hiking With My Dog

Subject in School: Math

Vegetable: Sweet Potatoes

Elementary School: Canyon

Bio:

Maggie Smith, Schoolyard Director

Bloomers! Avatar: Daisy

Favorite Children's Book: Alexander and the Terrible, Horrible, No Good, Very Bad Day

Game: The Game of Life

Outdoor Activity: Camping

Subject in School: Art

Vegetable: Carrots

Elementary School: Kenter Canyon

Bio:

Tobin Watenmaker, Non-Profit Program Director

Bloomers! Avatar: Big Red

Favorite Children's Book: Where The Wild Things Are

Game: Cranium

Outdoor Activity: Swimming in the Ocean

Subject in School: English

Vegetable: Tomato

Elementary School: Franklin

Bio:

Rob Ingram, Illustrator

Bloomers! Avatar: Pete Moss

Favorite Children's Book: The Hungry Caterpillar

Game: Hide 'n Seek

Outdoor Activity: Swimming

Subject in School: Art

Elementary School: Andrew Hamilton

Bio:

Sophia Kessler, Business Development Associate

Bloomers! Avatar: Rosey Posey

Favorite Children's Book: Everybody Poops

Game: Scrabble

Outdoor Activity: Tennis

Subject in School: Geometry

Elementary School: Echo Horizon

Vegetable: Arugula

Bio:
"I have to say I didn't expect my students to eat any of the lettuce. I thought they would just harvest it and that would be the end of the lesson. I was in absolute shock when they not only tried the crop, they ate the whole thing; most of them even had seconds!"
"I have one student who is on the heavier side and has some trouble keeping up with the other kids. One of the more difficult times of day for our teachers was snack time. We always try to provide our students with healthy snacks but in the past he has refused to eat them. As a part of  the Bloomers! Schoolyard program he actually tried a carrot. Not only that but he told me that they were really good and he said that he would eat them again! It's all about the little victories!"
"I was attending a graduation at the Christian Communion Academy and after our presentation to the parents, one of the Mothers approached me and asked if I was the woman who got her son to eat a tomato. I said "yes" and was met with the biggest hug and a thank you. She let me know that after her son came home from school, she had to take him to the supermarket to get more Cherry Tomatoes!!! I was so happy and it was a changing moment for me. It made me realize that what we are doing can make a real difference."
"I am delighted with how the children responded to the Bloomers! Schoolyard program. It shows me the value of a curriculum framework and assistance it can provide a teacher."
"It's amazing how much children love fruits and vegetables when they grow them themselves. This should be a part of every school's healthy- program."
"Bloomers has provided numerous experiences and opportunities for the children enrolled in the preschool program at Long Beach City College and Learning Lab.  Their overall design has been creative and unique, and developmentally appropriate for 3-5 year old children. We continue to enjoy working with Bloomers, and plan to use them more in the future."
"I wanted to thank you again for letting our school be a part of the Bloomers curriculum project.  The children are really enjoying growing the snow peas and reading the stories.  They want to read all the stories all at once instead of one a week.  The know that at the end of each story Mr Banyan hugs his tree house a little tighter and the next page says the end.  They have even started to notice the small Professor Sage picture that tells us to stop if they are not listening to the story- that was a great addition to the books.
The other reason I am writing to you both is that one of our preschoolers – Benjamin is really in love with the stories and the Bloomers.  He is a little "obsessed"- as mom calls it.  He has starting drawing amazing pictures of all the characters and tells all of our new teachers the whole story and who everyone is.  He has made his own Bloomers books at home (17 volumes right now) and wrote the stories from memory.  I was wondering if there was any way that we could get his parents a discount of the collection of printed stories.  He wants his mom and dad to print out the whole stories in color so he can read them again and again.  I would love to scan and send you some of his art work of Bloomers if you want to see it.  You may have a future employee one day here."